Quote from Mother Teresa ('anjezë')
"We shall never know all the good that a simple smile can do"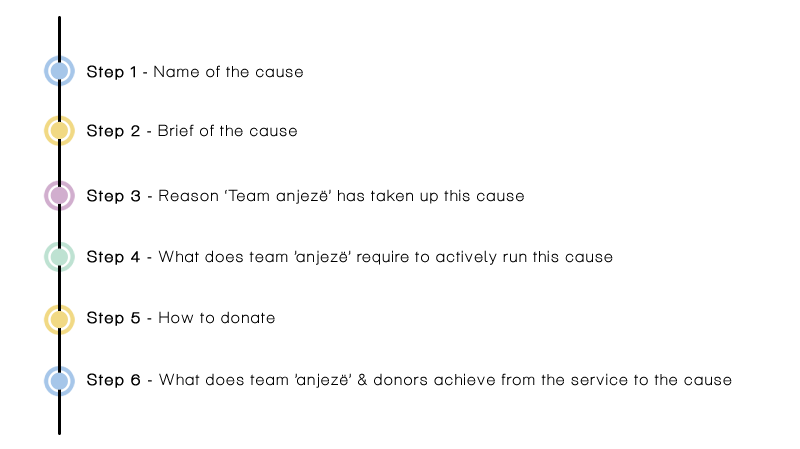 Team 'anjezë' distributes Goodie Bags (Bag with Gifts) & Hygiene Kits along with educating patients on basic Hygiene & Health at Tata Memorial Hospital. 'Team anjezë' has been running this cause for past few years at Tata Memorial Hospital and renews the commitment on yearly basis. Goodie Bag: A ward with 44 children suffering from Cancer. CANCER a word that shatters not only the patients but also their families. Monday mornings, generally start with doctors taking their rounds and a lot of investigations to be done. The kids know this all along and it makes them anxious and tensed.
The idea of this program is to start the morning with distributing beautiful little gifts (a goodie bag). This small act of kindness spreads immense happiness and children forget their pain with a smile and most anxiously wait for this goodie bag with gifts every Monday morning. Hygiene Kits: 
Along with the Goodie Bag, we also distribute Hygiene Kits in the ward. Children in the ward come from very poor socio-economic strata and have no concept of hygiene. It becomes important for the children to maintain hygiene in order to prevent deaths due to infections. This Kit does it all and it has become a life saving Act to distribute these kits in the ward.
REASON 'anjezë' HAS TAKEN UP THIS CAUSE
To see the children suffering from Cancer smile, while getting a poke of a needle, to see the children have breakfast when they receive a Goodie Bag, to see a parent sitting by the child's bed in the hospital get up to make the kid play with these little gifts and forget their pain in that little JOY. A Hygiene Kit that explains a parent on how to take care of the child's hygiene. A Kit that saves the child from infections as their immunity is at the lowest was reason enough for 'anjezë' to take up this cause.
WHAT DOES TEAM 'anjezë' REQUIRE TO ACTIVELY RUN THIS CAUSE
Goodie Bag(Bag with Gifts)
Goodie Bag (Bag with gifts) This bag would contain 5 to 6 small gifts, which could be a Puzzle, Ball, Car, Drawing Book with Colors, One Utility Item such as Steel Tiffin Box/ Plate & Spoon, A Milk Chocolate & A Packet of Bourbon Biscuit etc. (if required Team 'anjezë' can share a picture of Goodie Bag with the donor). Hygiene Kit = The Hygiene Kit would contain: 1 Napkin, 1 Bottle of Sanitizer, 3 Mask's, 1 Steel Glass, 1 Bottle of Coconut Oil, 1 Tooth Paste, 1 Tooth Brush, 1 Dettol Soap. All put in one bag (If required Team 'anjezë' can share a picture of Hygiene Kit with the donor)
Through this cause Team 'anjezë' has served more than 2000 children (and counting) at Tata Memorial Hospital and 200 children at Sion Hospital. (Based on the service rendered by Team anjezë, above data (figures) is updated on quarterly basis).
WHAT DOES TEAM 'anjezë' & DONOR ACHIEVE FROM THE SERVICES TO THE CAUSE
Team 'anjezë' has been running this cause for few years at Tata Memorial Hospital committing to them year by year. The team starts every Monday morning with distributing Gifts & Hygiene Kits to these lovely little Angels who currently are fighting a battle with Cancer, in turn trying to share some happiness, praying for them to be Cancer Free and receiving Blessings from them in Abundance. Team 'anjezë' Thanks the children for giving the opportunity to serve.
View all causes
Click here to view 12 more causes that we currently have. Each of our cause has a video or an audio to save time of our viewers.