Quote from Mother Teresa ('anjezë')
"If we pray, we will believe; If we believe, we will love; If we love, we will serve"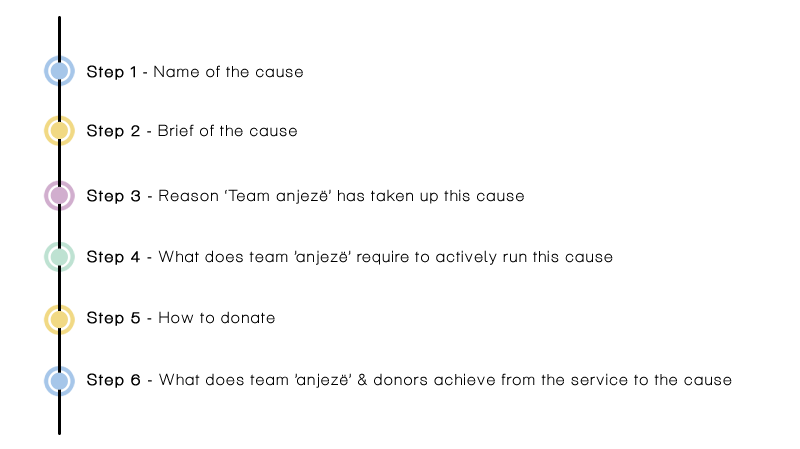 Donating food grains and various protein supplements to the under privileged children/adults. This would include children suffering from Cancer/ various other diseases, children at orphanages, remand homes, home for the mentally challenged and similarly, adults in various such places, priority being children.
REASON 'anjezë' HAS TAKEN UP THIS CAUSE
Malnutrition is a very common problem among under privileged children/adults. From various hospitals, to orphanages, to homes for the mentally challenged to old age homes, Team 'anjezë' through this cause, strives to provide the primary need of food/clothing/shelter for survival.
WHAT DOES TEAM 'anjezë' REQUIRE TO ACTIVELY RUN THIS CAUSE

Funds for the products or the products directly for donation.
Few generic items required for this cause are stated below: 1. Food grains (rice/flour/dal/sugar/oil) 2. Milk powder 3. Oats 4. Threptin biscuits 5. Dry fruits 6. Ghee etc. Through this cause Team 'anjezë' has served more than 2000 families (and counting) at Tata Memorial Hospital and 300 families (and counting) at Sion Hospital. (Based on the service rendered by Team anjezë, the above data is updated on quarterly basis).
WHAT DOES TEAM 'anjezë' & DONOR ACHIEVE FROM THE SERVICES TO THE CAUSE
Through this cause Team 'anjezë' is ensuring as follows: 1. Proper nutrition for patients suffering with various disease and helping them build their immunity to fight the disease. 2. Nutrition for children at orphanage homes to ensure that the child receives a wholesome meal. 3. Nutrition for old age homes to provide them with proper vitamins and supplements.
View all causes
Click here to view 12 more causes that we currently have. Each of our cause has a video or an audio to save time of our viewers.