Quote from Mother Teresa ('anjezë')
"At the end of life we will not be judged by how many diplomas we have received, how much money we have made, how many great things we have done. We will be judged by "I was hungry, and you gave me something to eat, I was naked and you clothed me. I was homeless, and you took me in."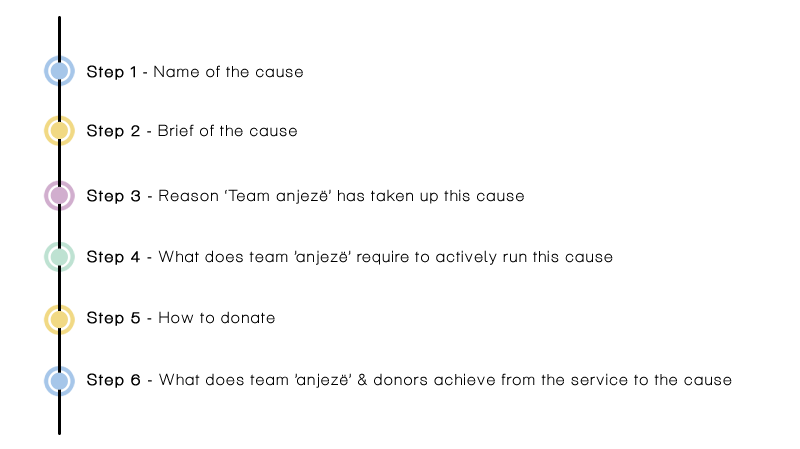 Adopting the complete treatment of a child at the hospital. This involves providing the child for holistic support which includes treatment, accommodation, nutrition and transport. To make a child Cancer free, Team 'anjezë' has introduced the concept of holistic support by adding accommodation, nutrition and transport to their treatment.
REASON 'anjezë' HAS TAKEN UP THIS CAUSE
There are many children who do not get any financial help for treatment from NGO's or the Govt. due to lack of documentation. If they are not given timely help they can loose their chance at treatment and cure. Along with funds for treatment they also require support in terms of travel expenses, accommodation expenses, food and nutrition support, clothing and other needs. 'anjezë' has taken up this cause to ensure that no child suffers due to lack of finance and is given equal chance at cure like any privileged child.
WHAT DOES TEAM 'anjezë' REQUIRE TO ACTIVELY RUN THIS CAUSE

Funds from the donor for holistic treatment of the child. Please Note: Team 'anjezë' through the hospital can arrange a meeting with the child/family before taking up the adoption. Also the donor (based on the child's treatment) can meet them on an ongoing basis. The donor will also be given regular updates on the child's status.
The approx. cost of adopting a child for holistic treatment ranges from Rs. 75,000 to Rs. 4,00,000 depending upon the type of disease. Team 'anjezë' will share the cost certificate of the child, which mentions the type of Cancer/disease, the breakup of the costs involved and the duration of treatment. The said cost certificate would be issued by the treating hospital. Through this cause Team 'anjezë' (through its donors) has adopted more than 18 children (and counting) at Tata Memorial Hospital. (Based on the service rendered by Team anjezë, the above data is updated on quarterly basis).
WHAT DOES TEAM 'anjezë' & DONOR ACHIEVE FROM THE SERVICES TO THE CAUSE
Trying to create equal opportunities for all, Team 'anjezë' has been running this cause for the past few years and has been able to adopt the treatment of many children. Such children would not have got timely treatment if the funds would not have been provided. This gives many children a right to treatment and hence provides happiness and satisfaction to people who are part of this cause. Team 'anjezë' intends to work towards eradicating abandonment of treatment due to lack of support.
View all causes
Click here to view 12 more causes that we currently have. Each of our cause has a video or an audio to save time of our viewers.